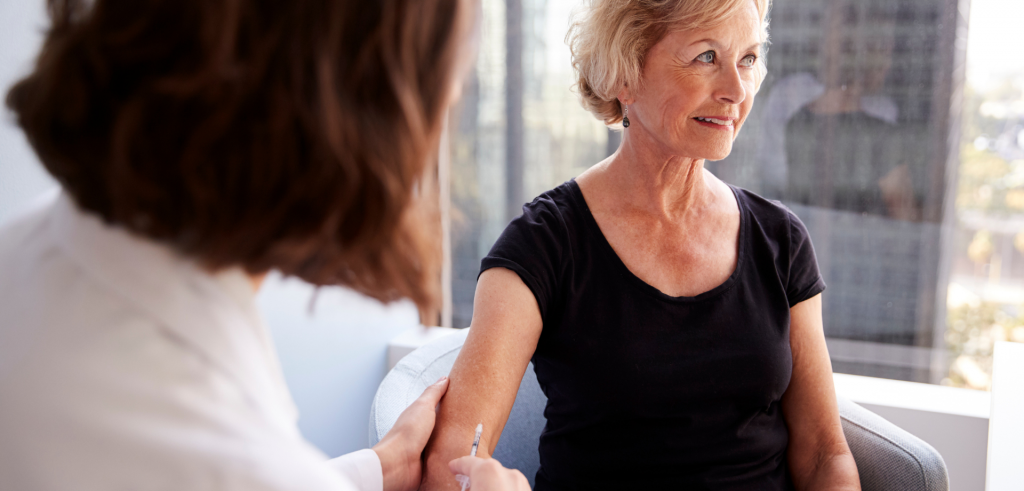 50 – 64 year olds will not be included within the NHS flu vaccination programme
Length:
2
minute read
Date added:

18/07/22
Did you know that NHS criteria for flu vaccinations have changed this season?
This year, fewer of your employees will be eligible for free flu vaccination.
Eligibility for free vaccination by the NHS is determined by the Joint Committee on Vaccination and Immunisation (JCVI). Their programme aims to protect those considered at highest risk from  influenza. 
During the last two years, due to the pandemic, the NHS extended the eligibility for the national Seasonal Influenza (flu) Vaccination Programme to include those aged 50 to 64 and secondary school pupils. 
The guidance issued in March for the 2022/ 2023 flu season, states that the NHS programme will be returning to "pre-pandemic recommendations". 
Cohorts in England that were eligible in the 2021 to 2022 season that are not included in the cohorts for 2022 to 2023 are:

those aged 50 to 64 years 

secondary school children in Years 7 to 11 (between 11 and 15 years of age on 31 August 2022)
This means that many of your workforce will no longer be able to visit their NHS GP or a local pharmacy for their vaccination without having to pay privately for the vaccination. It's still very crucial for those under 65 to get the flu vaccine, since it can reduce the spread and risk of flu-associated hospitalisation.  
In light of this, you, the employer, may want to consider introducing a workplace flu programme so that your employees have access to a flu jab this winter without having to worry about the costs or inconvenience associated with having to arrange this themselves.
According to data from the Pharmaceutical Services Negotiating Committee (PSNC), as of 18 February 2022, community pharmacies had provided nearly 4.8 million flu vaccinations as part of the NHS programme, of which 46% were to people aged between 50 and 64 years.
As social contact returns to pre-pandemic levels there is likely to be a resurgence in influenza activity in winter 2022 to 2023 to levels similar to or higher than before the pandemic. 
Investing in an employee flu vaccination programme not only safeguards your workforce but it is a much  appreciated wellness benefit that employees respond really well to.
Get a quote for your team
Submit our online form for a detailed quotation and options of available dates.
Dates beginning September are available but filling up fast.

Remember the immune response for maximum protection takes about 2 weeks to fully develop.