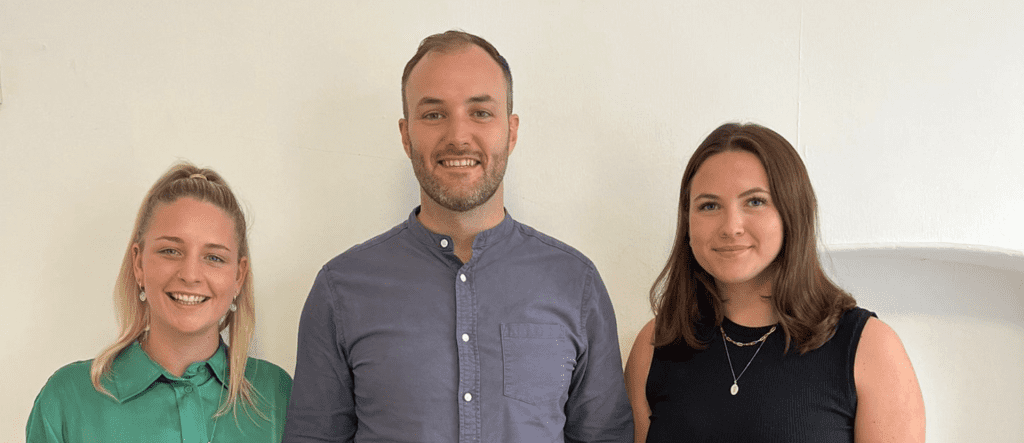 Meet our Corporate Flu Team!
Length:
3
minute read
Date added:

04/08/22
Flujabs.org is excited to introduce you to our new flu team for this year's flu season.
Following last year's successful flu season, Charles will again be leading this year's flu campaign at Flujabs.org, Fleet Street Clinic. He welcomes 2 new team members; Ella Joy & Abbey Onions to support this year's flu campaign. We are thrilled to have them both join the flu team and under Charles' guidance, we anticipate a very successful upcoming season.
So, let's introduce you to our 2022 flu team!

Charles Corfield – Corporate Business Manager
Since joining the Fleet Street Clinic in February 2021, Charles has overseen many different projects for iconic brands, including FTSE 100 companies. With employee wellbeing at the forefront of all his projects; they include covid-19 testing, annual medicals, general health checks and of course, seasonal flu vaccination programmes.
Outside of work, Charles is a fitness fanatic and enjoys many different types of sports, from cycling to running to korfball. Most recently Charles has taken to scaling up and down mountains across the UK as fast as possible in his latest sport venture of Trail Running. He is passionate about finding the best pizza places in London and appreciates any recommendations. He is willing to travel far and wide for good pizza!

Ella Joy – Project Manager
Ella started working at Fleet Street Clinic in February 2020, working in the covid team. She recently joined the flu team earlier this year, in June. 
During her time in the covid team, she managed many different client's intricate covid-19 testing programmes both in the UK and Internationally. Overseeing such diverse projects, which is now natural to her, has stood her in good stead for coordinating our clients 2022 flu vaccination programmes. Ella is an exciting addition to this year's flu team.
In her spare time, Ella enjoys listening to a wide variety of music and attending concerts and festivals. She is passionate about fitness; an avid gym-goer and a keen dog walker with her Dachshund, Bentley! Ella's favourite hobby is watching movies and sports with her family.

Abbey Onions- Project Administrator
Abbey is the newest member of the flu team. She started working at Fleet Street Clinic earlier this year, in July. Although new to supporting large scale projects, she is excited to support the various administrative duties surrounding the flu campaign. 
Abbey recently moved to London from Australia. She is excited to explore and make London her new home. In her spare time she enjoys watching documentaries and finding new cafes for coffee. 
We are certainly looking forward to seeing what this fantastic new team can achieve.
If you would like a quote for a corporate flu vaccination programme please get in touch.
_________________
For more information on the flu vaccination available, click here and for more information on Flujabs.org, click here.